Calling all art lovers! If you're a fan of immersive, one-of-a-kind experiences, we might have found your favorite spot. Superblue, an innovative experiential art center, showcases works by innovative artists from around the world and even transforms the way we look at art.
Located across the Rubell Museum, Superblue's 50,000 square feet center is housed in several abandoned warehouses, making it one of the largest spaces for experiential art in the country. Mirror mazes, glowing sculptures, flickering lights to visitors' heartbeats and plenty more breathtaking installations await at this multi-sensory art gallery that first opened its doors in 2021.
Its inaugural show, Every Wall is a Door, offers visitors an opportunity to be transported to an array of new worlds in a single visit through dynamic installations created by three of the world's leading experiential artists — a magical mirrored labyrinth by artist Es Devlin;  Ganzfeld, an enveloping light-based art installation by  James Turrel; and a dazzling digital environment featuring digital renderings of waterfalls and blossoming flowers by teamLab.
Rafael Lozano-Hemmer's latest work, Pulse Topology, is also on display consisting of 3,000 suspended light bulbs, each of which glimmers to the heartbeat of different participants. There's an additional immersive experience for an added cost, Massless Clouds Between Sculpture and Life by teamLab, that has visitors envisioning themselves walking through clouds (made of soap bubbles)!
Superblue Miami is open across the Rubell Museum, Monday to Thursday from 11 a.m. to 7 p.m., Friday to Saturday from 10 a.m. to 8 p.m. and Sunday from 10 a.m. to 7 p.m.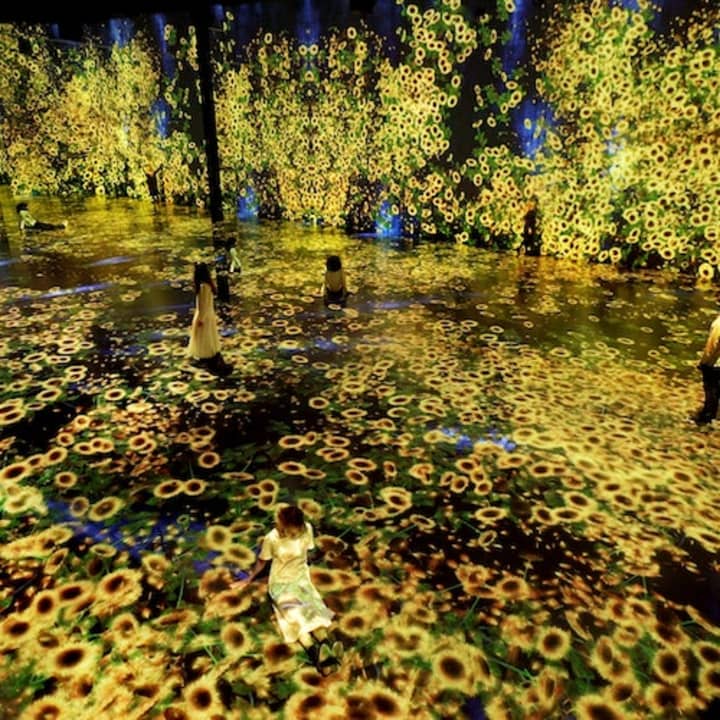 Superblue Miami Immersive Art Experience feat. teamLab
---