The highly-anticipated Vincent Van Gogh art experience is finally open in the heart of Downtown!
Artwork from the iconic post-impressionist painter Vincent Van Gogh comes to life in a 360-degree digital spectacle that's currently illuminating and transforming the Olympia Theatre in Downtown Miami into a fully immersive exhibit. You'll see Van Gogh's work take over the walls and encompass your surroundings through the lenses of several dozen projectors, hyper-realistic VR headsets, or a mix of both!
After successful exhibits in Atlanta, NYC, London, Barcelona and a number of other cities around the world, this mesmerizing exhibit has finally arrived in Miami (and will be making its way to Boston, Dallas and more shortly!). The multisensory journey through these famous bodies of work is an entirely new way of experiencing art, bringing every stunning detail to life like never before.
We were able to take a special first look at Exhibition Hub and Fever's mesmerizing exhibit that opens this past, June 16! And it was quite the sight to behold!
Here's a play-by-play so you can get a sense of exactly what the experience is like:
First, as you walk into the monumental Olympia Theatre, you'll be greeted by 3D versions of Van Gogh's beloved sunflowers adorning the walls, making for the perfect photo op.
Then, enter the first main hall and go on a journey through Vincent Van Gogh's life by way of painting recreations, video insights, and three-dimensional projections providing a window into the artist's greatest creations and inspirations.
You'll read about Van Gogh's relationships, insights into his process, and view his most revealing quotes in large scale. And you may even have the chance to step into his "Bedroom in Arles"…
Then, enter the main event: the transformative, two-story space that completely immerses you in his paintings— from of course the beloved Starry Night to Wheat Fields to Almond Blossom, to even his very last piece Tree Roots—in a way that merges art and technology in a completely new and profound way.
You'll experience 360-degree projections that cover even the floor enveloping you in another world.
The stunning sound, light and color spectacle blends in perfectly with the ornate and historic decor of the Olympia Theatre, a work of art in itself.
In the interactive portion of the exhibit, you can try your hand at coloring Van Gogh's most famous works yourself — his drawings and sketches displayed around you will surely inspire you to create your own masterpiece!
Or, you could also get an add-on ticket to experience a "Day in the Life" of Van Gogh in a mind-blowing virtual reality journey that will take you through the settings that inspired his most famous works.
Last but not least, buy your own Van Gogh paintings or Starry Night face masks in the gift shop at the end of the exhibit.
We were completely blown away!  So what are you waiting for? This magical experience has just been extended through to November. Check out this incredible experience at the Olympia Theatre this fall!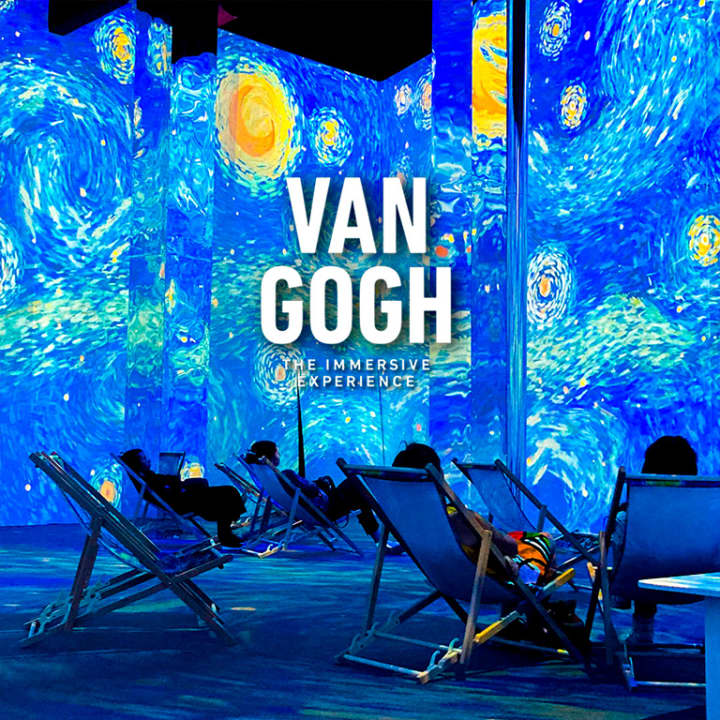 Van Gogh: The Immersive Experience
---