Artwork from the iconic post-impressionist painter Vincent Van Gogh comes to life in a 360-degree digital spectacle that's currently illuminating and transforming the Olympia Theatre in Downtown Miami into a fully immersive exhibit — and of course, we had to check it out for ourselves. We were truly in for a treat, witnessing Van Gogh's work take over the walls and encompass our surroundings through the lenses of several dozen projectors, hyper-realistic VR headsets, and other interactive activities. 
After successful exhibits in Atlanta, NYC, London, Barcelona and a number of other cities around the world, the mesmerizing exhibit has arrived in Miami in 2021 (and has since been reworked to feature the newest technology!) The multisensory journey through these famous bodies of work is an entirely new way of experiencing art, bringing every stunning detail to life like never before.
Grab tickets for Van Gogh: The Immersive Experience and read on for our full review:  
Here's a play-by-play so you can get a sense of exactly what the experience is like:
First, as you walk into the monumental Olympia Theatre, you'll be greeted by 3D renderings of Van Gogh's sunflowers — the perfect opportunity to take that photo we've been eagerly waiting to snap.
As we stepped into the experience, we came face-to-face with the legendary artist through larger-than-life projections in what was called the "Face" room, before embarking on a 9-min intro documentary that would set up the rest of the exhibit for us.
It was a very powerful moment that was the perfect start on the artistic, multisensory, journey we would embark on — and as we soon would see, it was just a taste of what was waiting for us in the other rooms.
We later plunged into a walk-through segment of the artist's key moments that took us through his hopes and inspiration. Painting recreations, video insights, and projections provided a window into the artist's greatest creations. We learned more about his work, his relationships — and we even got to see a real-life replica of his bedroom in Arles.
Then, enter the main event: the transformative, two-story space that completely immerses you in his paintings— from of course the beloved Starry Night to Wheat Fields to Almond Blossom, to even his very last piece Tree Roots—in a way that merges art and technology in a completely new and profound way.
We experienced 360-degree projections (that cover even the floor!) enveloping you in another world, and we highly recommend you live that dream out for yourself as well. It truly felt like stepping inside a painting.
Once we left the immersion room (though that took us a while, it was so beautiful!), we made our way to the interactive portion of the exhibit, where we tried our hand at coloring Van Gogh's most famous works ourselves. His drawings and sketches displayed all around definitely inspired us to create our own masterpiece! We hung our oeuvre on the wall of the exhibition to leave our mark in the art world before checking out the VR section of the exhibit.
It was a glorious journey through a "Day in the Life" of Van Gogh that took us through the settings that inspired his most famous works — including his home in Arles, France.
Last but not least, we bought our very own Van Gogh paintings and Starry Night face masks in the gift shop at the end of the exhibit, because if you're not getting souvenirs at the end of an exhibition — what are you doing?!
It's safe to say we were completely blown away at Van Gogh: The Immersive Experience! The magical experience truly took us for a whirlwind of emotions, and we have even more respect for Van Gogh coming out of it. The experience has been in Miami for a couple years now, and luckily, it's still around! Plus it's the perfect fall outing as the weather gets cooler, so don't miss out!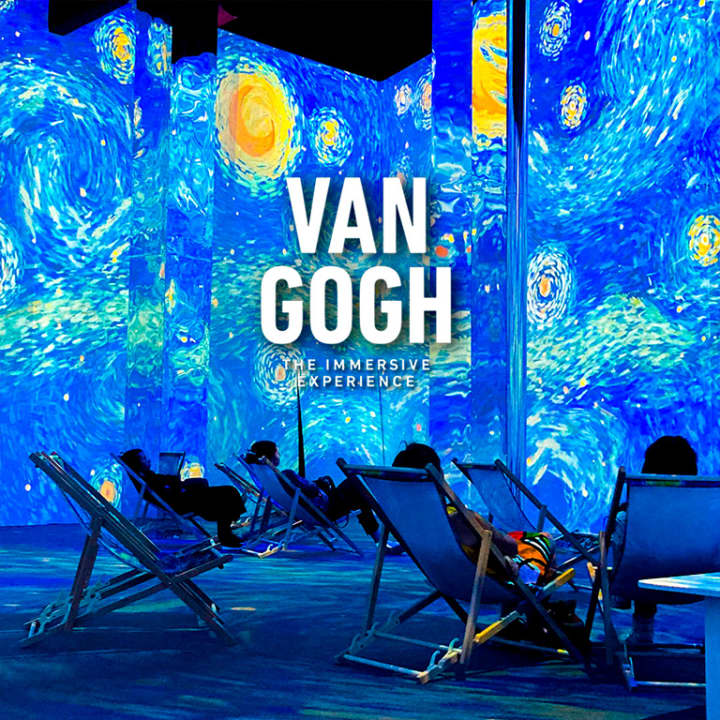 Van Gogh: The Immersive Experience
---