Filled with all kinds of wonders, tickets to Luminosa: A Festival of Lights have just been released! The radiant experience will be enchanting Jungle Island just in time for the holiday season. This is the first time in four years that Luminosa will be lighting up Miami and it's opening on Nov. 21st.
Get your best walking shoes ready, there's over a mile of winding beautiful sites to explore! This festival of lights has over 40 stunning lamp scenes crafted by 150 artists. From colorful floating jellyfish to vibrant dragons and a field of illuminated flowers, all of these amazing lanterns come to life. 
Be the first to get your tickets to this incredible light festival!
Step into four unique spaces, a mythical jungle wildlife called Jungle Animalia and the submerged ancient world of Atlantis. Experience beautiful history and cultures in the Asian Dynasty and Latin Civilization spaces!
Feel these worlds up close! Among the lights are a 65-foot-long underwater temple, a 75-foot-wide towering Maya totem, and a 21-foot-tall lantern representing historical Asian architecture. There are also light corridors you can walk through such as a 100-foot passage of light, and a 32-foot dragon you can immerse yourself in!
Surround yourself with the mystique of Luminosa: A Festival of Lights!
Collaborated production by Jungle Island and Zigong Team, this mesmerizing experience uses 120 tons of steel and 150,000 feet of silk to help create these stunning and creative scenes to whisk you away!
Jungle Island will be lit up this holiday season! Located at 1111 Parrot Jungle Trail, Luminosa will enrapture you with its magic. Wear comfortable shoes and enjoy this mystical walking trail. There is a lot of light and adventure to explore at Luminosa!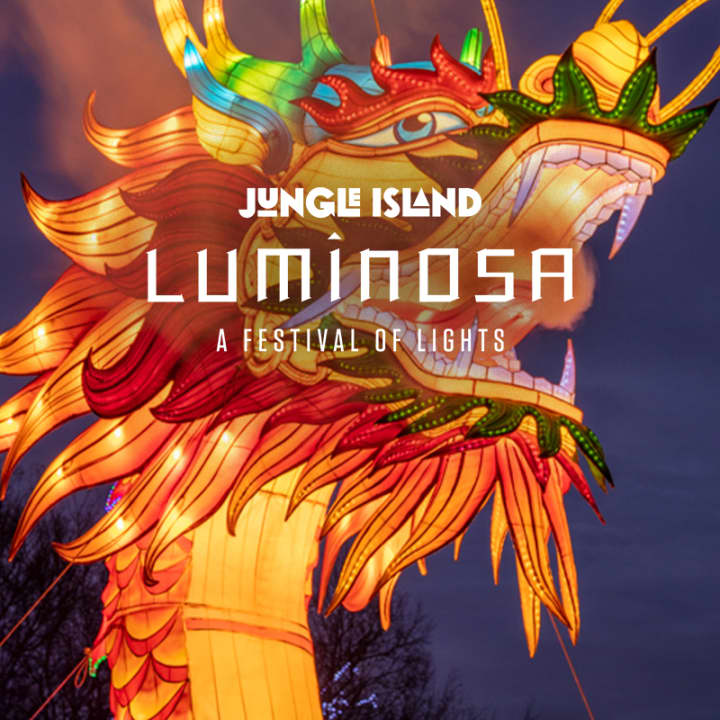 Luminosa: A Festival of Lights
---